Feedbin is the best reader for RSS, newsletters and Twitter
This is not a promoted blog post. I really love Feedbin so decided to write about it.
Problem with Feedly and tt-rss has always been the lack of companion apps and browser extensions. I loved RSS back in the Google Reader days but nowadays it's kinda background noise. Reeder is a good looking mac app but it seems I never want to read articles with an app. RSS belongs to browser just like it used to be back in the days.
I have been using RSS daily, sure, but more often than not I just skim the articles and mark everything as read. Feedbin changed that for the good. Its ultra minimal take on UI makes it wonderful to use.
Let's face it, there is no good mobile app for RSS in 2021. Every single app I have tried are either full of bugs or lack major features like background sync and notifications. Feedbin attempts to change that as well as it's very readable on mobile too.
Minimal UI
I loooove minimalism. Feedbin looks clean and doesn't have any useless features. It has a light and a dark theme. Very pleasing to the minimalist eye.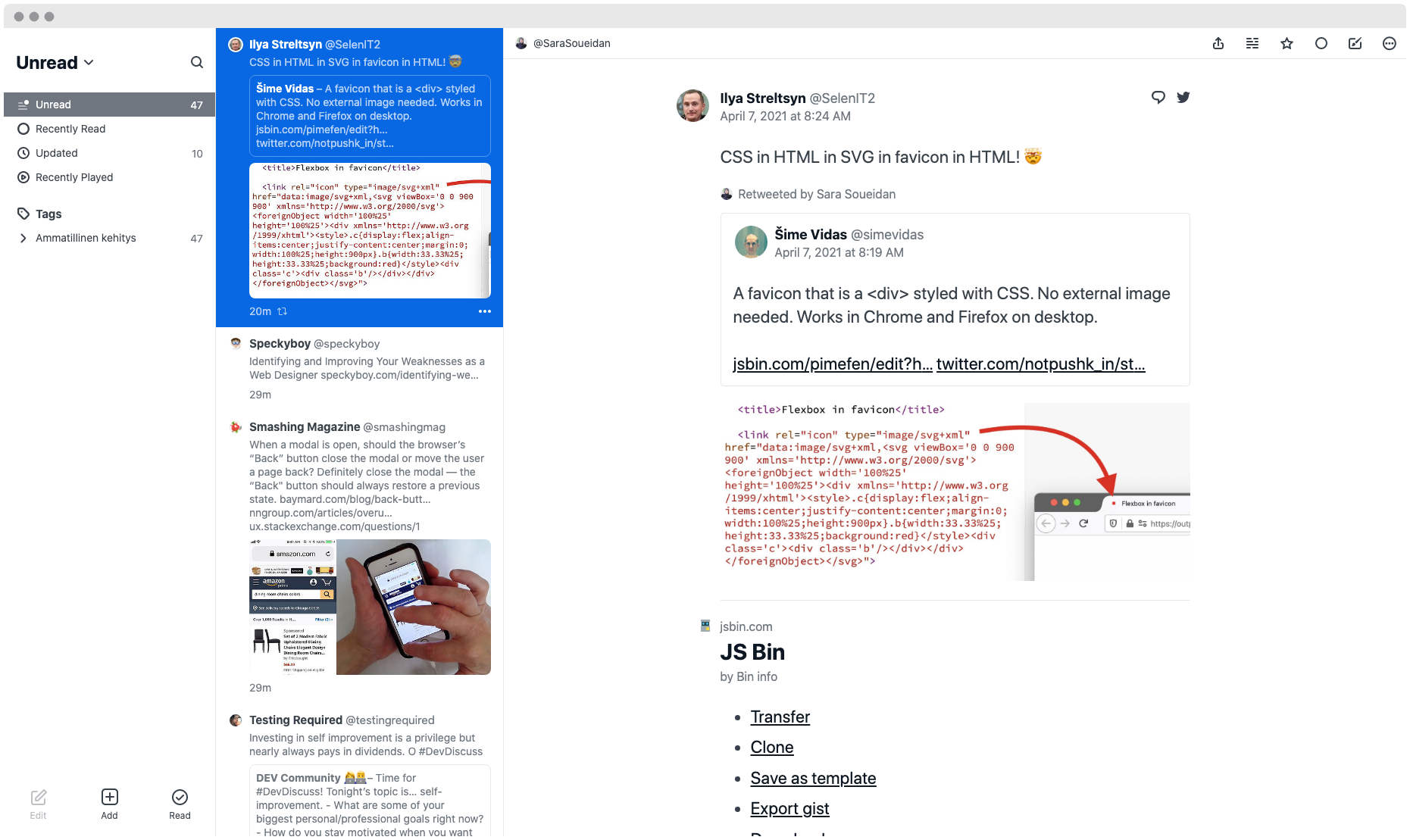 Works in browser on desktop and mobile
You can add Feedbin as app on home screen with actual icon without Chrome present. It's brilliant because it works the same despite what device I'm using. On Android there's no notifications but the app is joy to use anyway. On Chrome desktop I use Feedbin Notifier extension.
Twitter feed with media only
With Feedbin you can follow Twitter stats with it, with only tweets with media. This is huge because I follow thousands of people with different subjects and with Feedbin I can actually filter out the relevant content to read.
The best thing in browsing tweets in Feedbin is that it combine Twitter threads! I personally hate clicking and opening tweets with 🧵-emoji. Feedbin solves this.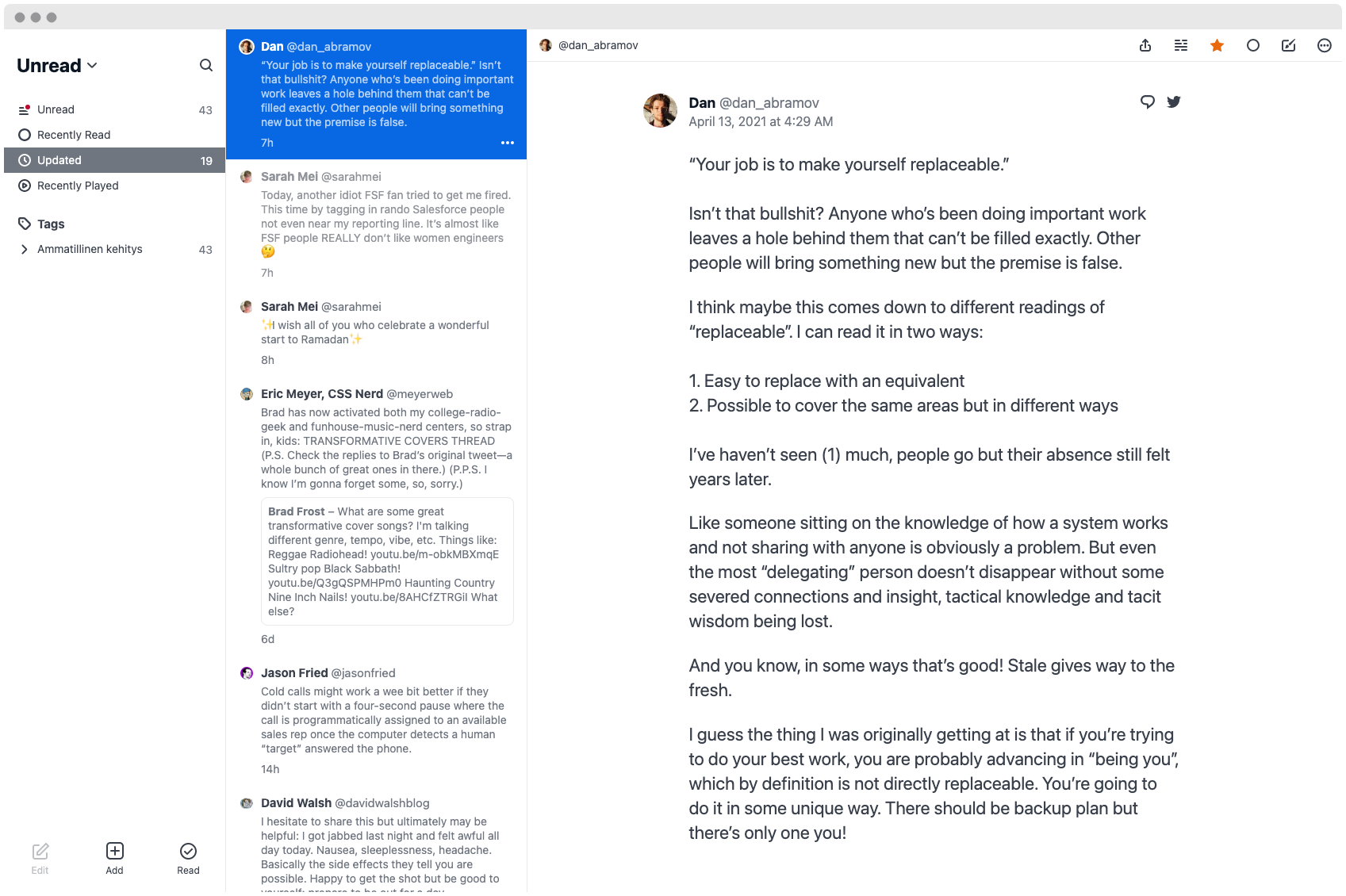 Email newsletters
I hate then in email but somehow I love the relevant ones like Panda and Goodreads on Feedbin. You can receive email newsletters to it with your personal feedbin email address like it's your Inbox.
Filter only relevant content
The cherry on top is the intelligent search and filtering feature. You can actually filter out content by creating rules which automatically mark as read the articles that contain certain keywords.
I'm a front-end developer for example and don't need stuff about Python or LaTex but I still want to follow The Practical Dev content. This solved the problem of having irrelevant articles. And it refines to be even more specific over time.
It shows edits in posts!
Yeah, Feedbin tracks edits. It's kinda scary sometimes. It even shows text replaced with line-through and new ones in the side of the paragraphs whenever someone updates their blog post or tweet thread.
It's open source, kind of
Feedbin has their source code on GitHub. This is not a self-hosted platform like tt-rss but still, how cool is that!
Not free
Yes, it costs some money after 14 day trial period. But this is so good I'm more than happy to pay to support the development. If you subscribe annually it's only about 4 bucks per month, less than a good cup of good latte. If you like to use RSS, get Feedbin. You won't regret it.